Earlier today, I was at the intersection of Braker Lane and Lamar Boulevard in north Austin. It's a standard, nondescript intersection. There is a CVS pharmacy on one corner,  a Goodyear Tire Center on another, a Penske truck rental place, a Thai restaurant —- your typical north Austin suburban scene. But that particular intersection is anything but typical for me, filled as it is with ghosts and memories of youthful innocence and echoes of long ago.
It all slides indelibly into the past …
1979. The summer between my junior and senior years in high school. I was 17 years old, skinny as a rail and, having recently purchased my first car, exploring the world around me for the first time.
I had headed to Austin with my friend Eric to spend a week with his older brother, Jeff, who was a senior at UT. Jeff had a roommate named Darcy, a beautiful, blond graduate student with a great smile and a crackling wit and sparkling, knowing eyes. She was worldly and radiant and she'd go braless in the apartment and I'm pretty sure that I started sweating whenever she was around. I was awestruck by the idea that Jeff was living with this woman in a purely platonic fashion. It was treated so matter-of-factly, as were it a simple matter of course and the most natural thing in the world. I fell in love with Darcy, who was way out of my league but kind enough to pretend not to notice. And I fell in love with Austin, a magical place where such creatures abounded in a time of free love and so many other flavors of goodness.
Jeff was in summer school and one night he went to the library while Eric and Darcy and I stayed at the apartment and drank beer. After awhile, Darcy said, "Let's go to the Stallion and get some chicken fried steak." So we drove over to North Lamar and pigged out and drank even more beer. Mind you, the drinking age was 18 at the time and I was only 17 and I was just SURE the waiter was going to ask for some ID but this was Austin and it was that summer, that wonderful summer when everything was safe and there were no terrorists and nothing was scary and we wore flip-flops everywhere and slept in late whenever we wanted to.
When we were done eating, Darcy said, "I want to show you guys something." So we piled into her little VW Super Beetle and headed north on Lamar. It began to get kind of rural-looking by and by, especially after we got north of 183. Darcy said, "you know that this street, Lamar, used to be called the Dallas Highway? It's true. Before they built I-35, Lamar was the highway that you had to take to get to Dallas." A couple of minutes later she whipped into a dusty parking lot on the west side of the road —- exactly where that CVS pharmacy on the northwest corner of Braker and Lamar is,  where I was earlier today.
We got out. There was a full moon and I could see a long, whitewashed, wood frame building in front of us. Darcy started getting mystical, launching into doe-eyed Stevie Nicks mode. "Listen," she said, "Can you hear it? Can you feel it?"
"Feel what?" I asked.
"Shhh …. listen close," she said. "Can you feel the vibrations?"
We'd been listening to John Prine's "Illegal Smile" on the 8 track in her VW as we'd been driving along and I was beginning to wonder if Darcy had secretly partaken of some things that Eric and I had been unaware of. Because, you know, Darcy was all about the partaking.
"Darcy," Eric asked, "What the hell are you talking about?"
That's when she pounded Eric in the chest with the palms of her hands. "What am I talking about? I'm talking about Elvis, man! I'm talking about Hank Williams! I'm talking about Johnny Cash and Johnny Horton and …."
"Who is Johnny Horton?" I asked.
"You know, Johnny Horton," she said, "he sang that song about the Battle of New Orleans."
Then she launched into the chorus:
"We fired our guns and the British kept a-comin'
There wasn't nigh as many as there was a while ago
We fired once more and they commenced to runnin'
Down the Mississippi to the Gulf of Mexico"
I remembered the song because my dad had practically worn it out on our record player when I was a kid.
"Okay, so what about Johnny Horton?" I asked.
"Guys," she said, "you are standing in front of the world famous Skyline club. They closed it down a year or two ago. The Uranium Savages played there on the last night of operations and then they shut her down. Anyway, this is the place where Elvis sang and where Johnny Cash sang and where all of the greats used to sing when they came to Austin."
I stood looking at the building in the moonlight. Maybe it was the beer, but I WAS beginning to hear, or feel, something.
"But this is the strangest thing about this building," Darcy said, "it is the place where Hank Williams performed his last concert, at the end of 1952. He died in the backseat of a car less than two weeks later. And it's also the place where Johnny Horton played HIS last gig, about 8 years after Hank Williams played his. Horton finished his performance that night at this club, got into his car, and started driving back to Louisiana. He never made it. He was killed in Milano, about sixty miles from here, when an oncoming driver crossed into his lane and hit him head on. So both Hank Williams and Johnny Horton played their very last gigs right here, in this building right in front of you. You should both kneel down. You're in the presence of greatness!"
I admitted that it was a pretty strange coincidence that both Hank Williams and Johnny Horton had played their last shows in this building.
"But it gets even weirder than that," Darcy said. "Hank Williams was married to a woman named Billie Jean when he died. After he died, Billie Jean remarried ….. to Johnny Horton. She and Johnny were married at the time Johnny was killed in Milano. So not only did both Hank Williams and Johnny Horton play their last gigs in this building, but they were both married to the same woman when they died."
I shuddered, beginning to feel kind of uncomfortable with the whole thing. I thought maybe she was making it all up. But I found out later that it was all true. Legends had played at that place and a few of them left it and never played again.
*********
Hank Williams played his last show at the Skyline Club on December 19th, 1952. Witnesses say that, in spite of his terrible health and drinking and drugging, he tore it up that night, playing for three hours. Less than two weeks later, on New Year's Eve, he died while en route to a show in Canton, Ohio.
Here is a photo of the advertisement that ran in the Austin newspaper at that time: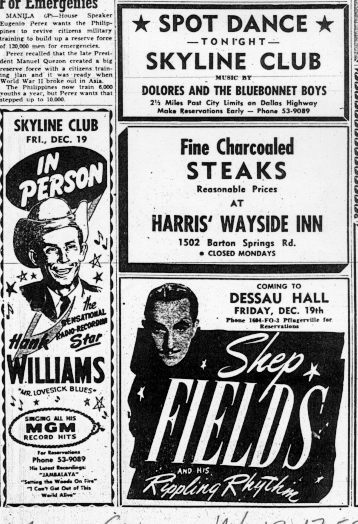 Here is a sketch of the Skyline Club: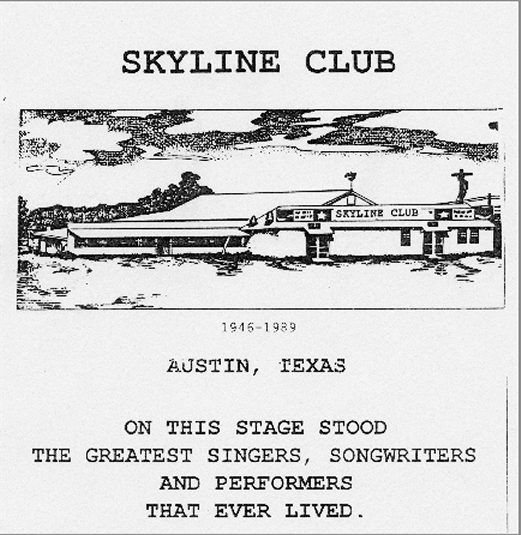 And here is a photo of Hank Williams and Johnny Horton together. Hank is second from the left and Johnny Horton is on the far right: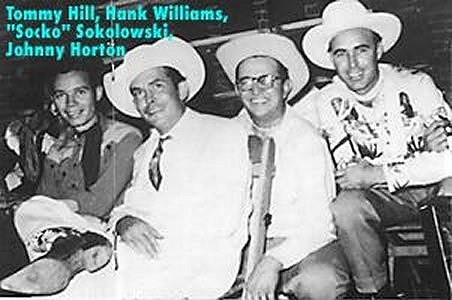 **********
I only saw Darcy a few times after that, but I still think of her from time to time, even now, even after all of these years, wondering what became of her.
After the Skyline Club closed in the mid-1970's, the building sat vacant for a few years before it became the second incarnation of Soap Creek Saloon. It operated as Soap Creek before Soap Creek moved south of the river. The building fell into disrepair and was finally bulldozed in 1989, bringing the end to an era the likes of which we will never see hereabouts again.
So anyway, next time you're at Braker and North Lamar, stop and look at that CVS pharmacy there on the Northwest Corner. Say a prayer for Hank and Johnny and Johnny and Elvis, and consider the sad things that we do to the past.
Somebody —- I can't remember who —- once said that longing on a large scale is what makes history. I never knew what be meant by that,  but sitting at that intersection while waiting to make my left turn onto Braker Lane, I began to get an inkling. So I punched up some Jerry Jeff Walker on the Ipod and sang along:
I FEEL LIKE HANK WILLIAMS TONIGHT
Well, I could live my whole life, without a phone call
The likes of which I got today.
It was only my wife, said "hello" then "goodbye".
And told me she's going away.
Well I didn't cry, It was all cut and dried.
I hung up before I realized.
Turned up my stereo, I walked to the window,
Stared at the storm clouds outside.
Chorus:
And I play classical music when it rains,
I play country when I am in pain.
But I won't play Beethoven, the mood's just not right
Oh, I feel like Hank Williams tonight.
There's no explanation, not even a reason,
No talk of the good times we had.
Was it me, was it her, I don't know for sure,
And that's why I'm feeling so bad.
Chorus:
Hey, I play jazz when I am confused,
I play country whenever I lose.
Bird's saxophone, it just don't seem right
Now, I feel like Hank Williams toight.
Lately I've been thinkin', I just might quit drinkin'.
Now I don't know all-in-all.
I just might stay home, get drunk all alone,
And punch a few holes in the wall.
Chorus:
But when I'm real high I play rock'n'roll,
I play country when I'm losing control.
I don't play Chuck Berry quite as much as I'd like,
Now, I feel like Hank Williams tonight.